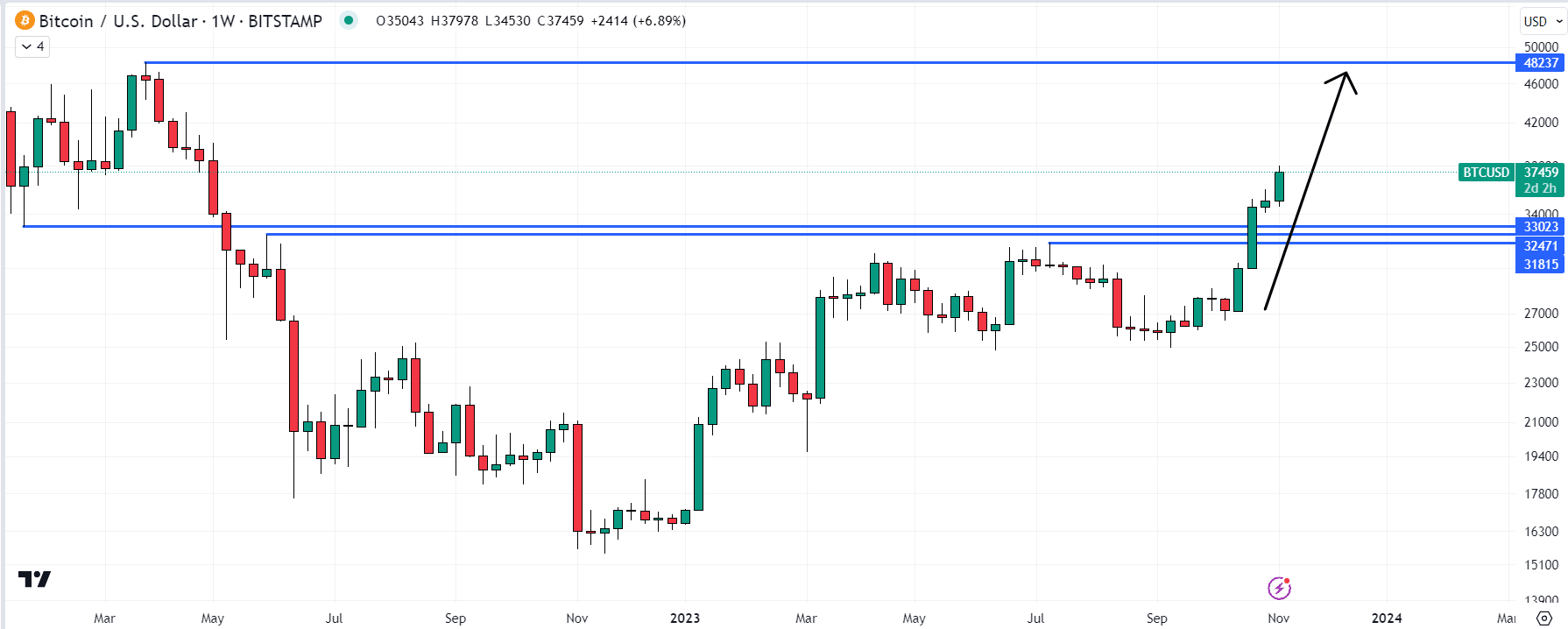 A near 8% surge in the price of Bitcoin (BTC) in the past seven days has seen its market capitalization jump by more than $50 billion to above $700 billion for the first time in seventeen months.
The cryptocurrency's market cap was last around $729 billion, corresponding to a BTC price of around $37,300, its highest level since prior to the collapse of the Terra blockchain in May 2022.
Bitcoin has pumped up a stunning 36% in the last 30 days from its October lows under $27,000, largely as a result of a surge in institutional interest in the cryptocurrency ahead of widely expected spot Bitcoin ETF approvals in the US by early 2024.
As per investment advisory firm ByteTree, the holdings of Bitcoin investment funds just hit a new all-time high of 863,434 BTC tokens.
ByteTree's founder Charlie Morris commented that its little surprise that "the price has been so strong of late".
The approval of spot Bitcoin ETFs in the US is expected to open the door to substantial capital inflows from institutions as they begin allocating a portion of client wealth to BTC, which is expected to act as a strong tailwind for the price, hence the recent pump, which has been driven by front-runners attempting to get in ahead of all of these institutional inflows.
News that BlackRock is also making moves to set up a spot Ethereum ETF in the US took some of the shine off of Bitcoin's rally this week as it neared $38,000.
Perhaps that because some investors had been buying it on the premise that it would be the only crypto to gain ETF approval in the US next year.
Well, if spot Ethereum ETFs are also on the horizon, that makes spot Bitcoin ETFs a tad less special, hence why some investors may have sold their BTC and bought ETH on the news on Thursday.
But sentiment in the Bitcoin market remains very strong right now, with recent macro developments (falling US yields and rising US stock prices as investors bet the US rate hiking cycle is over) adding to the tailwinds.
Is the Bull Market Back?

Analysts at JP Morgan recently warned that the Bitcoin and broader crypto market rally is looking overdone.
The halving and approval of spot Bitcoin ETFs are both already priced in, analysts recently argued, warning that BTC is at risk of a "buy the rumour/sell the fact" reaction to both events.
But the vast majority of other analysts remain convinced that further upside is in store.
Matrixport recently called for Bitcoin to hit a price of at least $42,000 on spot Bitcoin ETF approvals in the US, while other analysts have outlined the $48,000 level as the next major bullish price target.
Trading.biz analyst Cory Mitchell went even further in a note shared with members of the crypto press earlier this week, predicting that Bitcoin could hit new all-time highs as soon as mid-2024, an 85% rally from current levels.
"Bitcoin uptrends tend to move quickly once they get going, moving hundreds of percent often in less than a year," he noted, calling this stage of the market "the acceleration phase".
The "really big gains" historically come a year and a half after Bitcoin price has bottomed, Mitchell explained, which points to a pump coming sometime around mid-2024, with BTC having last bottomed back in November 2022.
"In 2013, bitcoin rallied 1200% in approximately 100 days… in 2017, it rallied 1900% in just under a year… in late 2020, it rallied 400% in about 140 days".
Even if JP Morgan analysts are right and we do see a pullback, with Bitcoin currently up around 125% year-to-date, BTC certainly appears to be back in a bull market.
Price Prediction – Where Next for Bitcoin (BTC)?

Dips in the BTC market remain subject to being bought with support around $36,000 looking particularly strong.
Assuming the bullish momentum continues, the next major bullish targets include the psychological $40,000 level, the April 2022 highs at $43,000 and the March 2022 highs around $48,000.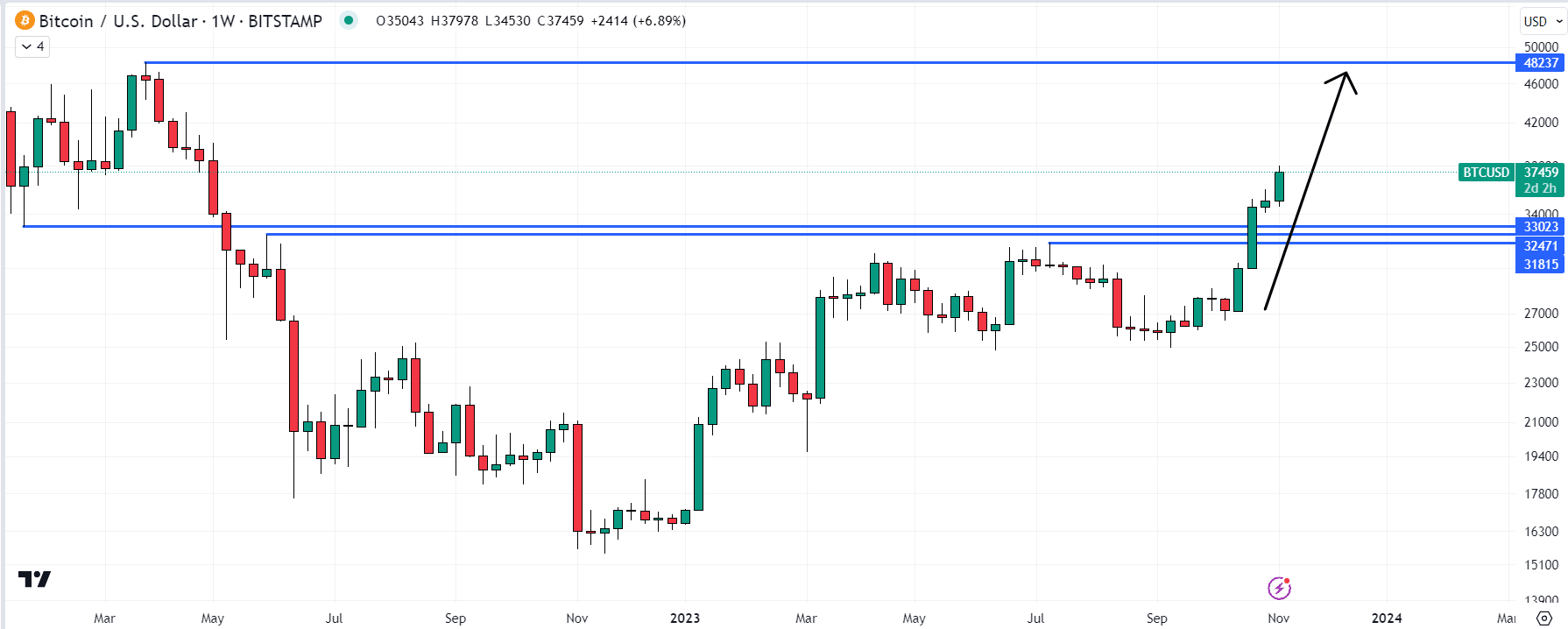 Looking ahead, crypto traders will remain transfixed on news relating to spot crypto ETFs in the US, but upcoming macro events like next week's US Consumer Price Index inflation and Retail Sales figures for October could further spur the crypto rally if they trigger a fresh pullback on Fed tightening bets.

Enter your email for our Free Daily Newsletter
A quick 3min read about today's crypto news!