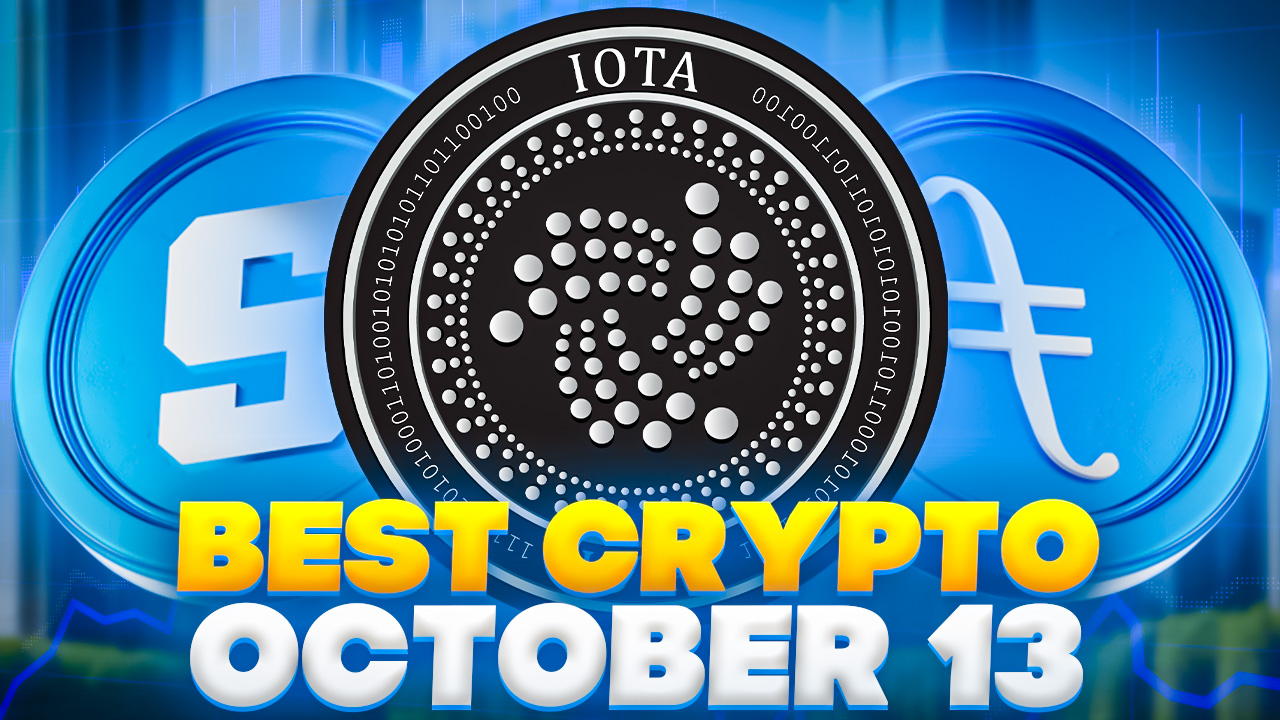 New revelations from former Alameda Research CEO Caroline Ellison surfaced today regarding the crypto hedge fund's financial relationship with FTX prior to the exchange's collapse.
Speaking to Alameda staff in Hong Kong last November, Ellison acknowledged the firm borrowed large sums from FTX customer accounts to fund its investments, according to an audio recording obtained by Cointelegraph.
Considering the ongoing developments in SBF's case, what is the best crypto to buy now?
This reliance on FTX loans ultimately left the exchange with a shortfall in user funds when Alameda could not repay the debts.
The 75-minute recording captured Ellison admitting to employees that Alameda had leaned heavily on the deposits to sustain its operations. 
"We ended up borrowing a bunch of funds from FTX," she conceded, portraying it as an open secret.
Ellison's candid remarks offered staff insight into Alameda's inner workings for the first time.
Former software engineer Christian Drappi told the court he was caught off guard by the extent of borrowing Ellison described. He pressed for details on who approved the loans, only to be met with evasion from Ellison.
The recording surfaced this week in the trial of FTX founder Sam Bankman-Fried, where prosecutors allege Bankman-Fried secretly transferred customer funds to Alameda. While the audio provides evidence of Alameda's reliance on FTX deposits, it is unclear who authorized the transactions.
Ellison struck a defeated tone in the recording, suggesting she knew the practices that had sustained Alameda were unraveling. 
"Most of Alameda's loans got called in," she told staff, precipitating the liquidity crunch that toppled FTX in November.
Her admissions cast doubt on the future of Alameda and FTX weeks before their collapse. Employees like Drappi quickly distanced themselves from the fray.
The full recording reveals in stark detail the inner uncertainty at Alameda as questionable financial arrangements began to blow up. Ellison's candid remarks give voice to the turmoil during the final days.
Meanwhile, Bitcoin's downturn shows no signs of ending, with the cryptocurrency trading around $26,700 today and on pace to record its sixth consecutive daily loss. This downward trajectory suggests a retest of low $26,000s may be ahead. The crypto total market cap is currently at $1.023 trillion also down by 0.12% so far today.
Even as most cryptocurrencies trade flat today, Filecoin, Bitcoin Minetrix, IOTA, TG.Casino, and The Sandbox make a convincing case as the best crypto to buy now given their strong fundamentals and/or favorable technicals.
Filecoin (FIL) Price Faces Selling Pressure: Can Bulls Regain Control?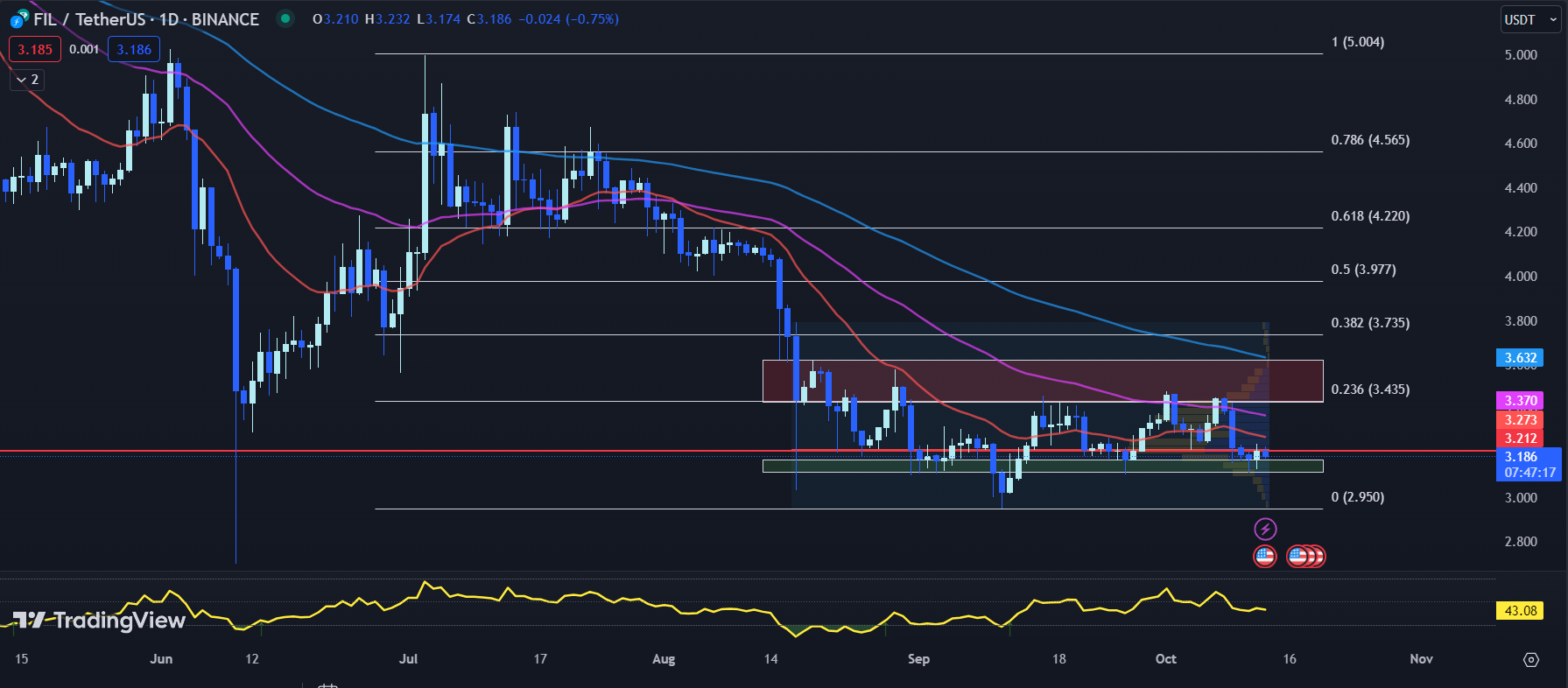 The Filecoin (FIL) price continues to face selling pressure after failing to hold above the Fib 0.236 resistance level of $3.435 last week. FIL is currently trading around $3.19, down 0.75% so far today.
With FIL still range-bound between $3.00 and $3.70, technical indicators point to caution in the days ahead for the FIL price.
The 20-day EMA for the FIL price stands at $3.27 while the 50-day EMA sits at $3.37. With the FIL price below both EMAs and the EMAs stacked in a bearish order, this signals overall weakness and downward momentum for the FIL price.
The RSI is currently reading 42.97, down from 44.46 yesterday and approaching oversold territory. This indicates fading upside momentum that could foreshadow further declines for the FIL price if buying interest does not return soon.
The MACD histogram for FIL is printing at -0.014, a deeper negative value from -0.012 yesterday. The growing negative momentum on the MACD warns of a strengthening bearish sentiment that could add to selling pressure on the FIL price.
A fixed volume profile of Filecoin's current trading range reveals a resistance level at the POC of $3.212, which has proven to be a challenging level to break for the past couple of days This is the immediate resistance for the FIL price, followed by the 20-day EMA at $3.272 and the 50-day EMA at $3.370.
On the downside, initial support lies between $3.11 and $3.17 which are recent swing lows. A break below here risks opening the door to a drop towards the lower end of the range near $3.00 for the FIL price.
With the FIL price stuck in a trading range and technicals pointing to further downside risk, caution and protective stops are warranted. A decisive break above the POC of around $3.212 or a drop below $3.00 support could set the direction for the next major move.
Until then, the FIL price appears vulnerable to further choppy, directionless trading in the range. Maintaining prudent position sizing and risk management remains key for FIL traders here.
Earn Passive Income through Bitcoin Minetrix's Stake-to-Mine Model; Best Crypto to Buy Now?
Despite a recent dip in cryptocurrency prices, Bitcoin Minetrix managed to secure over $1.24 million in funding for its stake-to-mine Bitcoin cloud mining platform.
Bitcoin Minetrix, audited by blockchain security firm Coinsult, distinguishes itself in the industry through its cashless and automated system, operating via Ethereum blockchain's smart contracts.
The Bitcoin Minetrix ecosystem's native coin, $BTCMTX, is currently in its presale stage, which is expected to conclude on October 16. With a Stage 1 raise target of $1.54 million, the presale may close earlier due to high demand.
This project offers a unique approach to mitigate the prevalent issue of fraud in cloud mining, a service that has seen growing appeal.
Customers often find themselves victims of scams, paying for mining income that never comes to fruition. Bitcoin Minetrix's cashless system intends to combat this issue.
The Bitcoin Minetrix project is situated in Georgia, a country known for its crypto-friendly policies. It utilizes a stake-to-mine system, where user deposits earn cloud mining credits.
These credits are subsequently used to cloud-mine Bitcoin. Notably, users can start reaping staking rewards while the coin is still in presale.
Users can earn income through Bitcoin Minetrix in two ways:
First, by staking $BTCMTX tokens during the presale, users can receive staking rewards with an annual percentage yield currently up to 480%.
Second, once Bitcoin Minetrix transitions to its full stake-to-mine model at launch, users will be able to generate income from Bitcoin mining operations. The mining credits they accrued during the presale by staking $BTCMTX can then be used to perform cloud mining and receive Bitcoin mining rewards.
Prominent financial influencers in the crypto space have displayed support for Bitcoin Minetrix due to its potential as one of the best crypto to buy now. These influencers include Conor Kenny, Michael Wrubel, and Jacob Bury, each boasting a significant online following.
Bitcoin Minetrix's approach offers an appealing alternative to conventional Bitcoin mining. With presale proceeds already exceeding $1.24 million, Bitcoin Minetrix is showing strong early traction.
For investors seeking new high-upside crypto presales, BTCMTX warrants consideration.
IOTA Price Prediction: Bottom or Further Downside Ahead?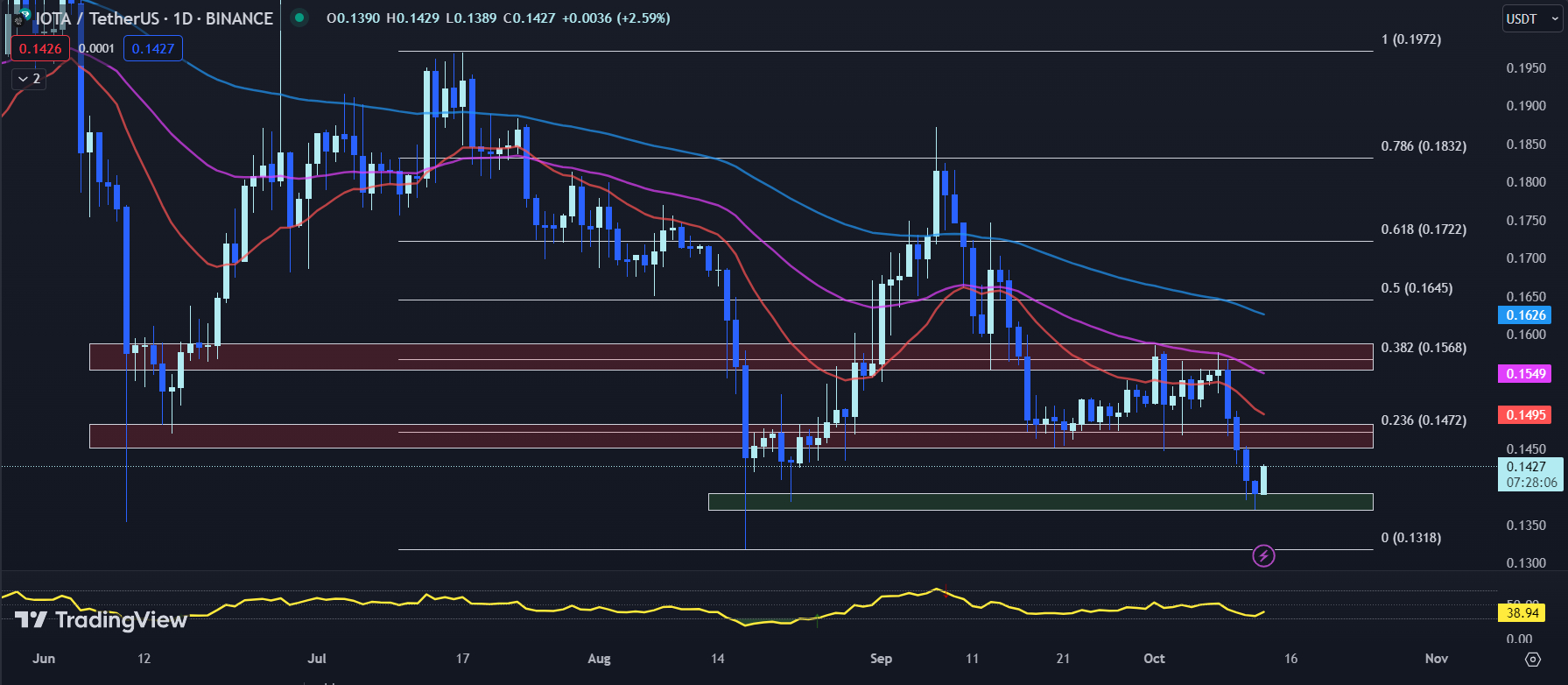 After posting a steep decline earlier this week, the IOTA price has shown signs of stabilizing around the $0.14 level. With the cryptocurrency bucking the low volatility of the broader cryptocurrency so far today, has IOTA found a bottom or still faces further downside ahead?
The 20-day EMA for the IOTA price currently stands at $0.1495, crossing below the 50-day EMA of $0.1549. Typically, when the short-term EMA crosses below the long-term EMA, it is seen as a bearish indicator for the IOTA price.
The RSI currently stands at 38.94, up from yesterday's oversold reading of 32.92. While the bounce off oversold levels shows some positive momentum, the RSI remains below the 50 neutral level, indicating overall bearish sentiment.
The MACD histogram is unchanged at -0.0010, the same as yesterday's value. The stagnant negative histogram suggests bullish momentum is struggling to gain traction.
The minor 2.59% increase in the IOTA price today comes amid relatively low trading volumes. This shows tentative buying interest that could easily dry up.
The IOTA price currently faces immediate resistance between $0.1451 to $0.1483, which aligns with the Fib 0.236 level at $0.1472. Clearing this former support-turned-resistance would signal a bullish breakout.
On the downside, initial support lies at the current swing low of $0.1370 to $0.1391. A breakdown below this support zone could see a retest of FIL's YTD low of $0.1318.
While the IOTA price has slightly rebounded off its recent swing lows, the upside appears limited with technical indicators painting a mixed picture. Neutral RSI and negative MACD present conflicting narratives.
Upside conviction may remain elusive until resistance near $0.15 is cleared. Conversely, a drop below $0.1350 could trigger a steeper selloff. Trading within defined risk limits is recommended until IOTA mounts a decisive breakout.
TG.Casino's $TGC Is the Best Crypto to Buy Now for Crypto Gambling Enthusiasts
TG.Casino has fully integrated its native $TGC token into its telegram-based casino platform, allowing players to start betting and win using $TGC. The casino is offering a 25% cashback on net losses when playing with $TGC, cementing its place as one of the most exciting players in the crypto gambling space.
Building on the momentum of its successful token presale, which has already raised over $890,000 from eager investors seeking early access, the introduction of $TGC on the platform is expected to propel the presale towards its lofty $5 million objective.
By bringing together crypto and online gambling, TG.Casino merges transparency through blockchain technology with accessibility through Telegram. This blend makes crypto gaming accessible to mainstream users.
Industry experts have high hopes for $TGC. With comparable crypto gambling projects reaching $700 million market caps, $TGC could potentially deliver significant gains according to the crypto YouTube channel Cilinix.
The online gambling industry is valued at over $260 billion globally—crypto casinos like TG.Casino are starting to chip away at market share thanks to their mobile-friendly design and simplified user experience.
With $TGC accelerating in popularity, TG.Casino is staking its claim as a pioneering brand on social crypto gambling. TG.Casino shows no indications of slowing down as additional token integrations and cashback rewards come online.
SAND Price Analysis: Is it a Dead Cat Bounce or True Bottom?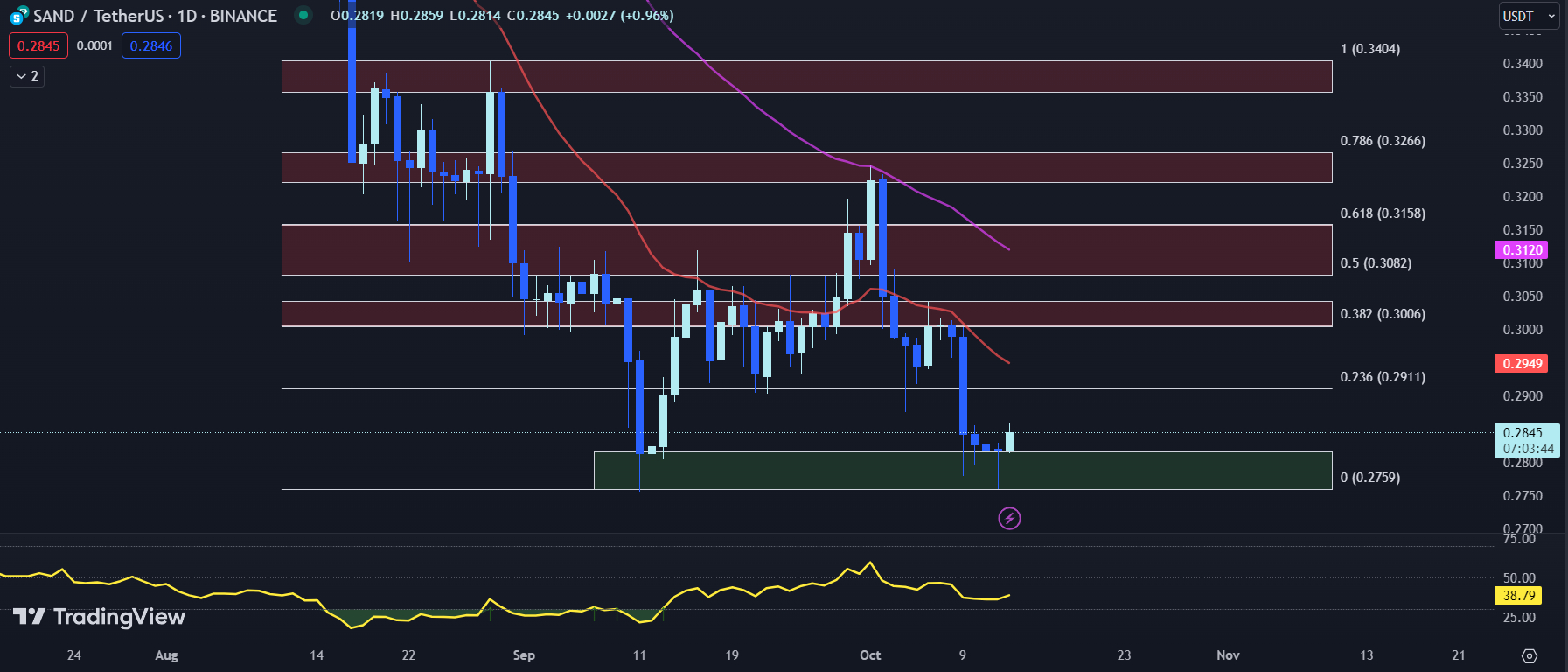 After posting 5 consecutive days of losses, The Sandbox (SAND) price has shown tentative signs of stabilizing around the $0.28 level so far this week. However, with SAND rejected from moving back above its 20-day EMA, is this bounce just a dead cat or a true bottom?
The 20-day EMA for the SAND price currently stands at $0.2949, above the 50-day EMA of $0.3120. With the SAND price unable to move back above its 20-day EMA, this shows bears remain in control of the short-term trend.
The RSI has bounced to 38.79 from yesterday's oversold level of 14.2. While emerging from oversold shows some positive momentum, RSI remains below the 50 neutral mark underscoring ongoing bearish sentiment.
The MACD histogram has improved slightly to -0.0016, up from -0.0018 yesterday. However, the sustained negative value indicates bullish momentum has yet to develop.
With the minor 0.96% increase in the SAND price so far today, trading volumes remain muted. The lackluster volume shows buyers are still hesitant to step in. SAND's market cap stands at $587 million, holding its rank as the #58 largest cryptocurrency according to CoinMarketCap.
On the upside, the SAND price faces initial resistance at the reverse Fib 0.236 level of $0.2911. Above this, further resistance is expected at the 20-day EMA of $0.2949.
To the downside, initial support comes in at the current swing low of $0.2759 to $0.2816. A breakdown below here risks a steeper decline to set fresh year-to-date lows.
While the SAND price has found a temporary bottom, upside momentum remains lackluster based on technical indicators. Anemic trading volumes and the inability to reclaim its 20-day EMA keep the outlook tilted to the downside.
SAND needs to close back above $0.30 for several days to show bullish conviction. Otherwise, a drop below $0.28 support could confirm the continuation of the downtrend. Caution is warranted until a decisive trend emerges.
Disclaimer: Crypto is a high-risk asset class. This article is provided for informational purposes and does not constitute investment advice. You could lose all of your capital.