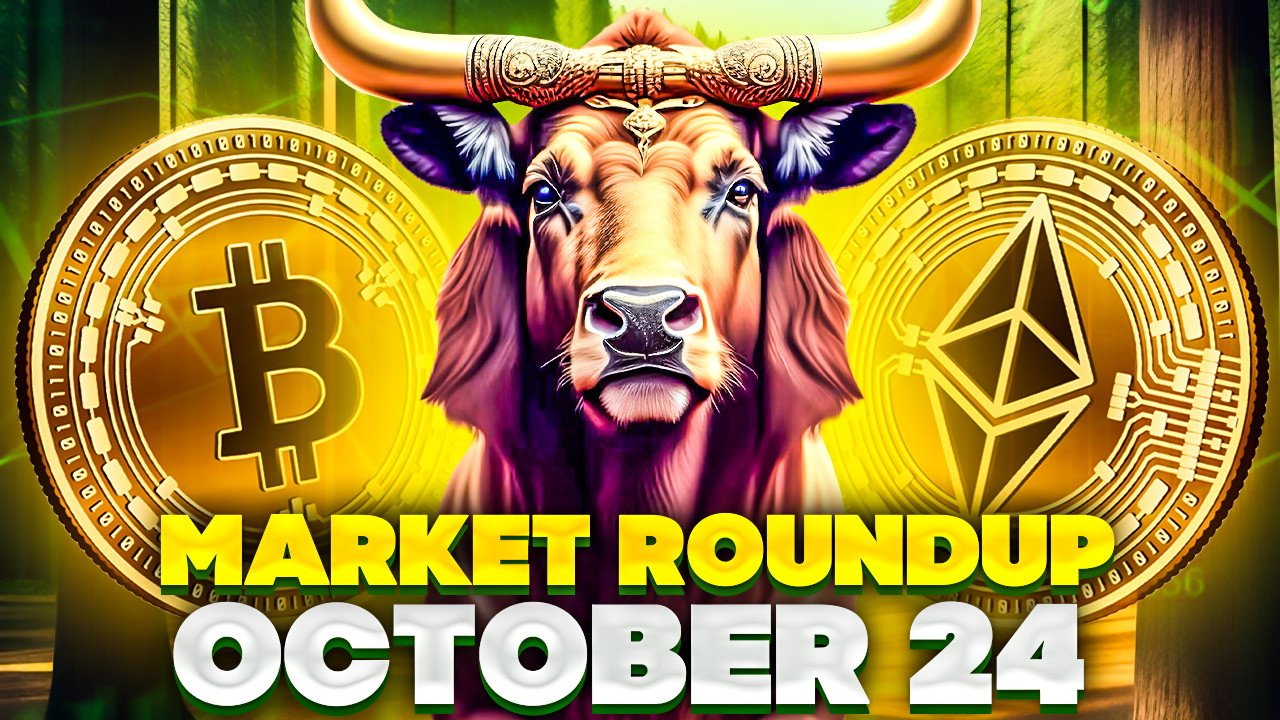 Bitcoin, once again, is generating buzz as it surges past the $33,000 mark, raising speculations about a possible "next wave" in the cryptocurrency realm.
Experts suggest that a potential market shakeup is on the horizon, underscored by a billionaire's choice to bolster his gold and Bitcoin reserves amidst fears of a significant downturn for the US dollar. 
The fervour was further intensified by an erroneous report suggesting the US Securities and Exchange Commission (SEC) had greenlit a Bitcoin ETF, causing a market frenzy that affected even stablecoins like Ethereum and XRP. 
Now, with a plausible US Bitcoin spot ETF approval, the crypto market's valuation could see an addition of a whopping $1 trillion. 
As the much-discussed Bitcoin halving event approaches, traders, investors, and crypto enthusiasts worldwide await potential market tremors.
US Court Mandates Grayscale Verdict, Clearing Path for SEC's Bitcoin Spot ETF Review
In a pivotal development, the US Court of Appeals has directed the Securities and Exchange Commission (SEC) to reevaluate Grayscale Investments' application for a Bitcoin spot exchange-traded fund (ETF). 
This order stems from an Oct 23 documentation in the US Court of Appeals for the District of Columbia Circuit, following the SEC's decision not to challenge the court's initial verdict on Aug 29. 
Reinforcing the court's Aug. 29 decision, the Oct. 23 order grants Grayscale a renewed opportunity to transform its Grayscale Bitcoin Trust into a Bitcoin ETF on the market. 
The SEC has consistently withheld approval for any spot crypto ETFs on US exchanges, though it has endorsed investments tied to Bitcoin and Ether futures. 
Additionally, on Oct. 19, Grayscale strengthened its stance by presenting a registration statement to the SEC, aiming to have its Bitcoin trust shares listed on the New York Stock Exchange Arca with the GBTC ticker.
Other major players, including BlackRock, ARK Investment, and Valkyrie, have similar spot crypto ETF applications pending SEC approval.
Impact on Bitcoin Price: This development can potentially bolster Bitcoin's price. If Grayscale's application gains approval, it may signal increased institutional acceptance, fostering greater liquidity and confidence in the crypto market. 
Furthermore, as major entities like BlackRock and ARK Investment await decisions on their applications, anticipation and speculation can also drive short-term price fluctuations.
Bitcoin Price Prediction
On October 24, the technical landscape for Bitcoin (BTC/USD) presented some intriguing analysis points. As of my last examination, the cryptocurrency was priced at $33,500, marking a positive 24-hour movement with an approximate gain of 4.5%. 
Bitcoin continues to lead the market, holding its 1st position with a substantial market capitalization of around $625 billion. The circulating supply is roughly 18.6 million BTC, nearing its capped supply of 21 million.
In the 4-hour chart, the pivot point stood firmly at $31,500. Bitcoin faced an immediate resistance at $34,700, with subsequent hurdles at $36,071 and $38,770. On the downside, immediate support was found at $30,335, followed by $29,201 and then $28,403.
The technical indicators provided more layers to the story. The Relative Strength Index (RSI) clocked in at a high 87. Such a value, being above 70, suggests an overbought market condition, which may indicate a looming pullback or consolidation. 
Moreover, an RSI value above 50 traditionally signals bullish market sentiment.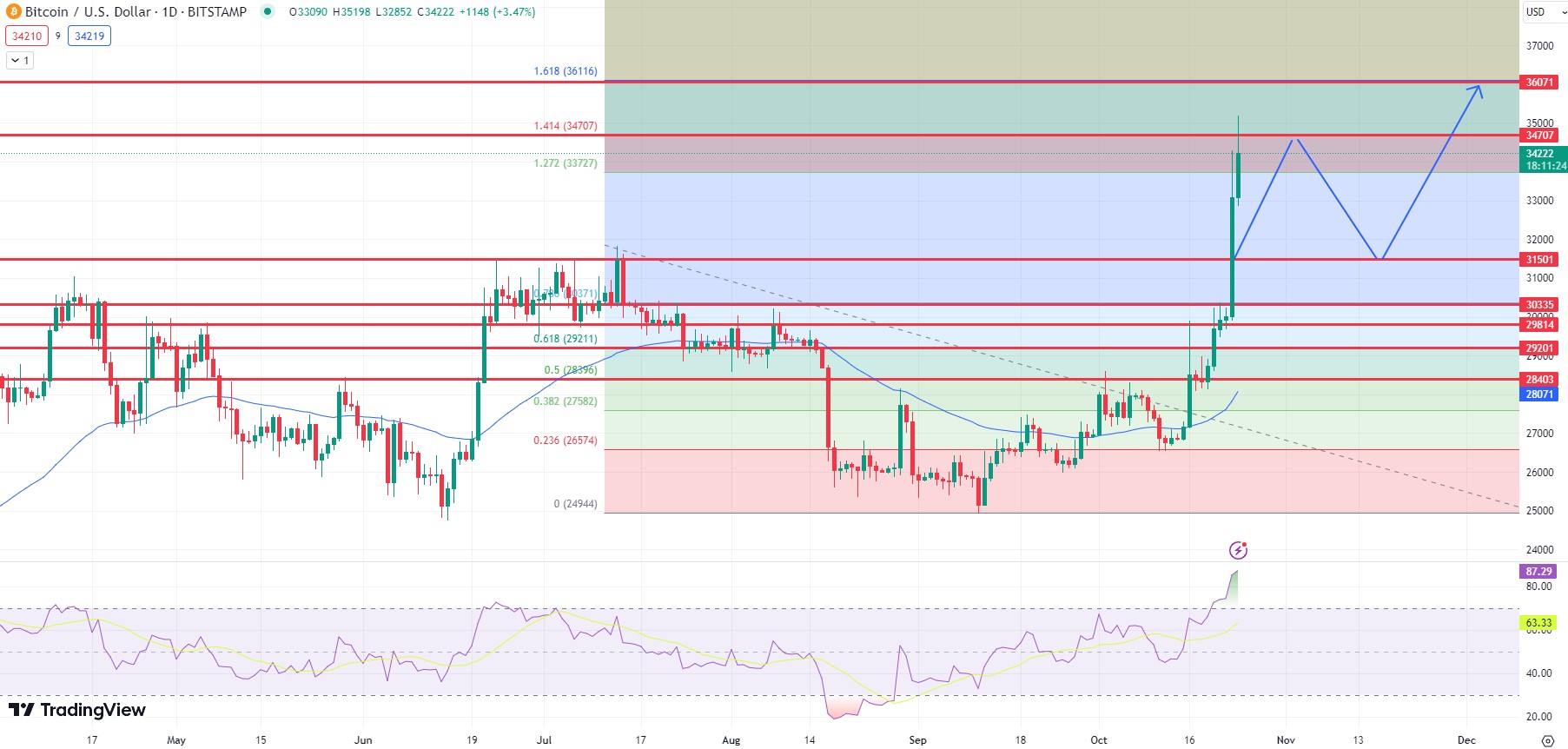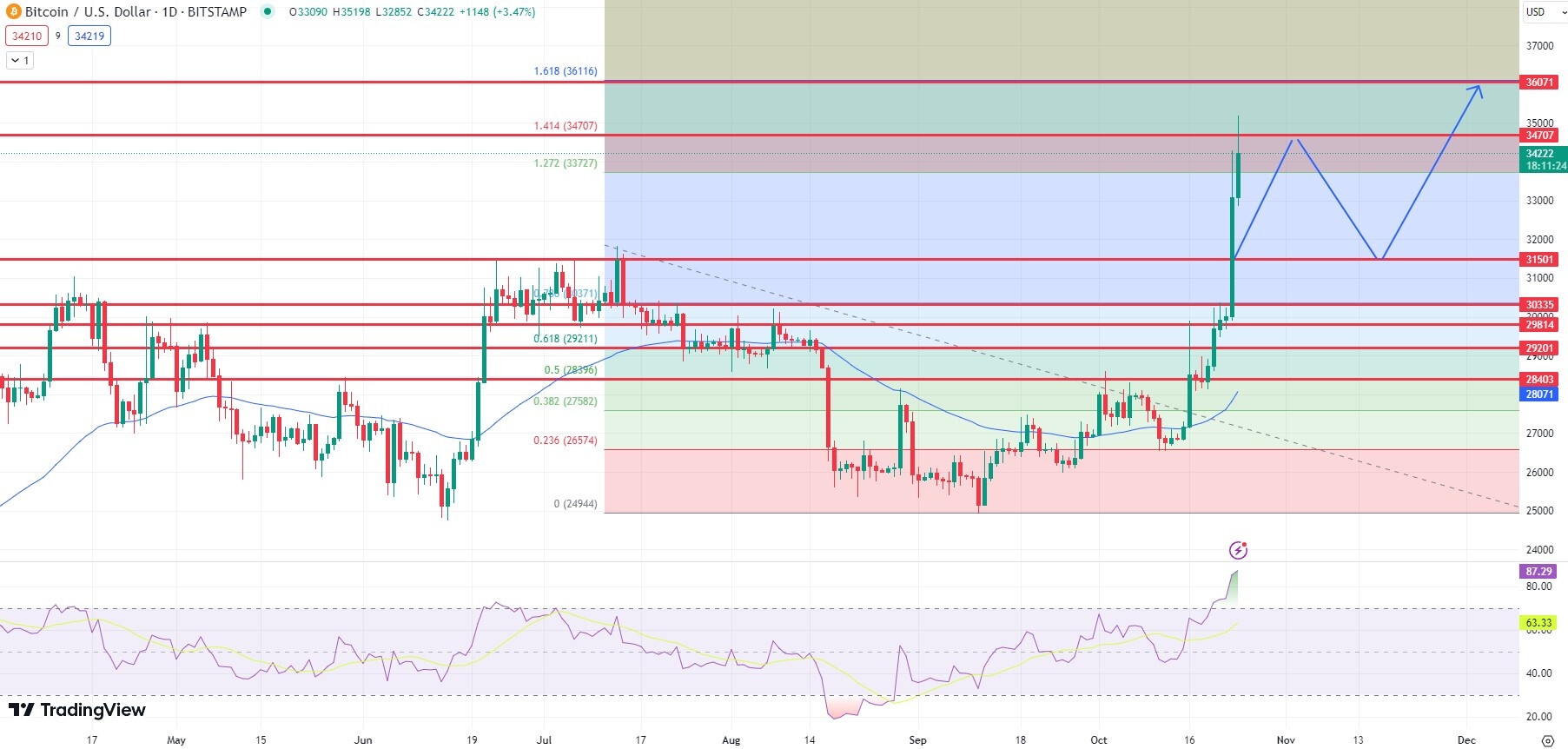 Traders typically view a crossover as a significant change in trend direction. Further, the price comfortably lies above the 50-day Exponential Moving Average (EMA) of $29,814.00, reinforcing the short-term bullish trend. However, a dip below this point could spark bearish sentiment.
Interestingly, the daily timeframe chart pattern showcased "Three White Soldiers," a bullish signal suggesting strong buying activity. 
However, the heightened RSI coupled with Bitcoin's struggle around the 1.414% Fibonacci extension level at $34,700 may hint at a bearish correction if it fails to breach this resistance. 
If Bitcoin maintains momentum and successfully surpasses the $34,700 mark, it's likely to challenge the $36,071 level soon. On the flip side, failing to do so might lead to a decline towards the immediate support levels. 
As always, investors are urged to conduct thorough research before making any investment decisions.
Top 15 Cryptocurrencies to Watch in 2023
Stay up-to-date with the world of digital assets by exploring our handpicked collection of the best 15 alternative cryptocurrencies and ICO projects to keep an eye on in 2023. 
Our list has been curated by professionals from Industry Talk and Cryptonews, ensuring expert advice and critical insights for your cryptocurrency investments. 
Take advantage of this opportunity to discover the potential of these digital assets and keep yourself informed.
Find The Best Price to Buy/Sell Cryptocurrency


Disclaimer: Cryptocurrency projects endorsed in this article are not the financial advice of the publishing author or publication – cryptocurrencies are highly volatile investments with considerable risk, always do your own research.