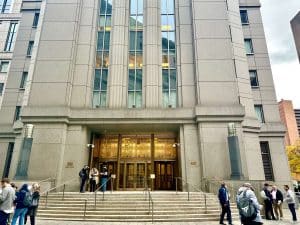 The jury is set to deliberate shortly in the trial of FTX founder Sam Bankman-Fried, with closing arguments scheduled for first thing Wednesday morning.
The defense rested its case mid-day Tuesday following weeks of testimony from former FTX executives, including former Alameda Research CEO, Caroline Ellison, FTX co-founder and former chief technology officer, Gary Wang, and former head of engineering for FTX, Nishad Singh.
Preparing jury instructions
On Tuesday afternoon, Judge Kaplan, the government, and the defense held a charge conference to further determine instructions for the jury before they begin their deliberations. The jury was sent home mid-day as the parties hammered out final details.
It is unclear how long the jury may take before reaching a verdict, however, Bankman-Fried finds himself in a challenging position, with less than 1% of federal criminal defendants acquitted in 2022.
If convicted, Bankman-Fried faces a maximum sentence of over 100 years in prison.
SBF faces off in court with former executives
Bankman-Fried has continually deflected responsibility off of himself, instead shifting blame towards co-conspirators Ellison, Singh, and Wang, while insisting he acted in good faith with no intent to defraud anyone.
However, Ellison, Singh, and Wang, all testified against their former boss under a cooperation agreement with the US government in hopes of a reduced sentence.
According to Tim Enneking, Managing Partner at Psalion and CEO of Presearch.com Inc., Ellison's testimony was "the most damaging."
"She appears to have worn many hats in her relationship with Mr. Bankman-Fried," Enneking shared.
During her time on the witness stand, Ellison painted Bankman-Fried as a "distant" boyfriend during their years-long tumultuous relationship. Moreover, she claimed she was made to feel like "an unequal partner" throughout their romance, citing concerns "about the intersection of our personal and professional relationship."
Reflecting on her time at Alameda Research, Ellison claimed Bankman-Fried was a self-described utilitarian who believed "maximized utility" was the only "moral rule that matters." Furthermore, Ellison, Singh, and Wang testified that they largely deferred to Bankman-Fried as founder and CEO, with Ellison claiming "he was the one who set up these systems to take customer money."
SBF's risky testimony
Bankman-Fried's decision to testify came at the risk of contradicting himself on the stand, with the prosecution pointing out seemingly numerous inconsistencies from prior statements from the defendant. Oftentimes, Bankman-Fried stated "I don't recall" when fielding questions from the prosecution.
"Perjury is certainly in the cards," Enneking said. However, Bankman-Fried would most likely "have to completely flip his story" for the judge to push forward with it.
"It's a crime that's very rarely punished," Enneking shared.
Bankman-Fried is expected back in court tomorrow ahead of closing arguments.

Enter your email for our Free Daily Newsletter
A quick 3min read about today's crypto news!