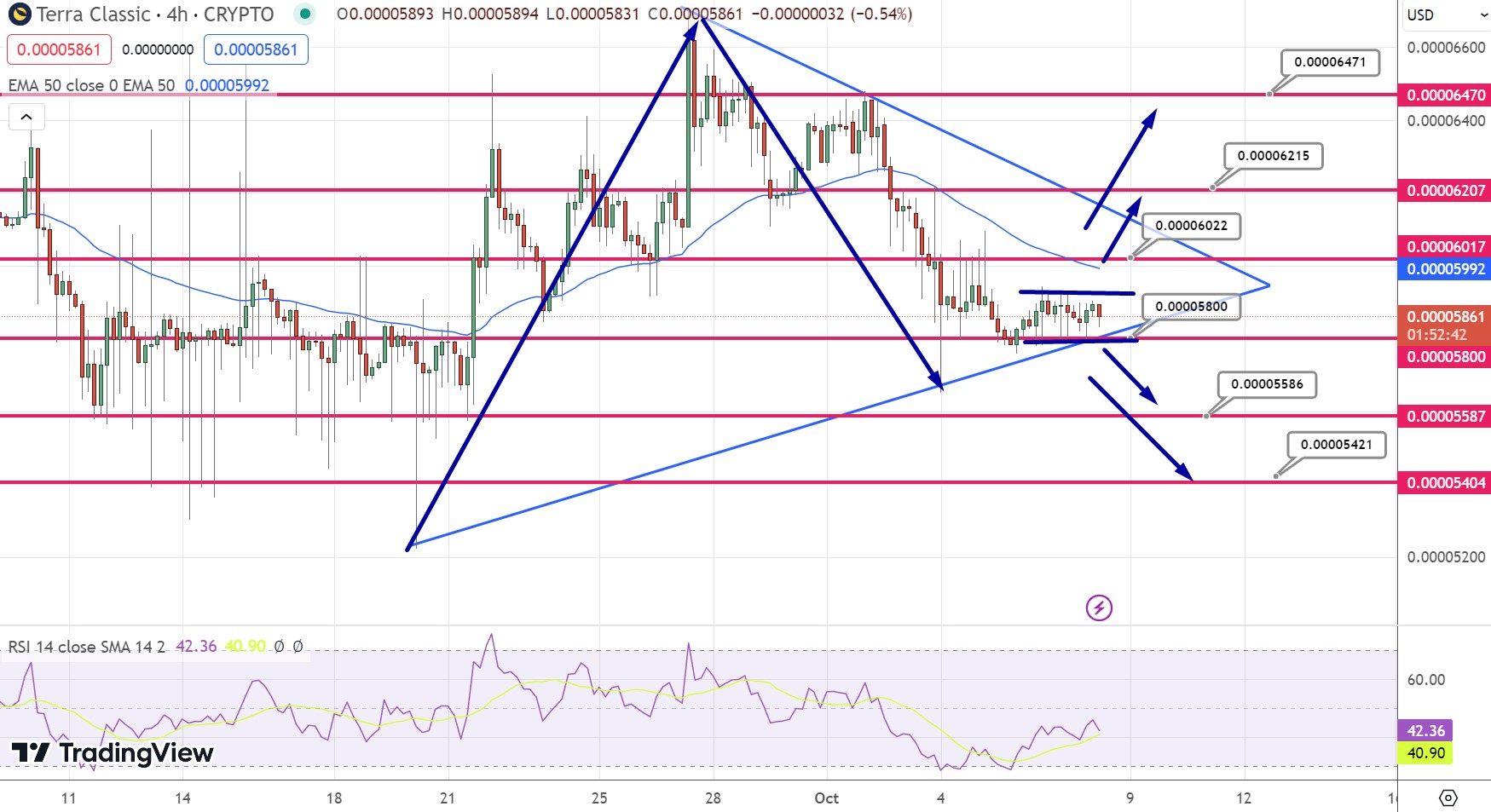 In the rapidly changing landscape of digital assets, Terra Luna Classic's LUNC has been catching the eyes of many cryptocurrency enthusiasts.
While its current price hovers around the $0.00006 mark, its future potential remains a topic of significant debate and intrigue.
With cryptocurrency markets known for their unpredictability, is a leap to $3 for LUNC over the next two years a realistic proposition?
To answer that, we need to delve into its recent performance, technical indicators, and the overall market sentiment.
Terra Luna Price 
As of October 8, the price of LUNC stands at a modest $0.00006, but what's truly noteworthy is its substantial 24-hour trading volume, which suggests heightened investor interest.
Over the last day, LUNC has experienced a slight uptick of 0.10%.
According to CoinMarketCap, LUNC's market capitalization is not yet comparable to major players like Bitcoin, but it has shown promising momentum.
Terra Luna Price Prediction
The technical outlook on a 4-hour timeframe provides a deeper perspective on LUNC's potential trajectory.
Currently, the pivot point is situated at $0.00006022. For traders and investors, key levels to watch include an immediate resistance at $0.00006215, with subsequent resistance points at $0.00006471 and $0.00006695.
Should the token experience a downturn, it can expect support at $0.00005800, followed by deeper support levels at $0.00005586 and $0.00005421.
Delving into technical indicators, the Relative Strength Index (RSI) for LUNC is at 42.
Typically, an RSI below 50 indicates bearish sentiment. Another crucial indicator, the 50-day Exponential Moving Average (EMA), is currently at $0.00006022. The LUNC price's proximity to this EMA suggests a precarious position between a bullish and bearish trend.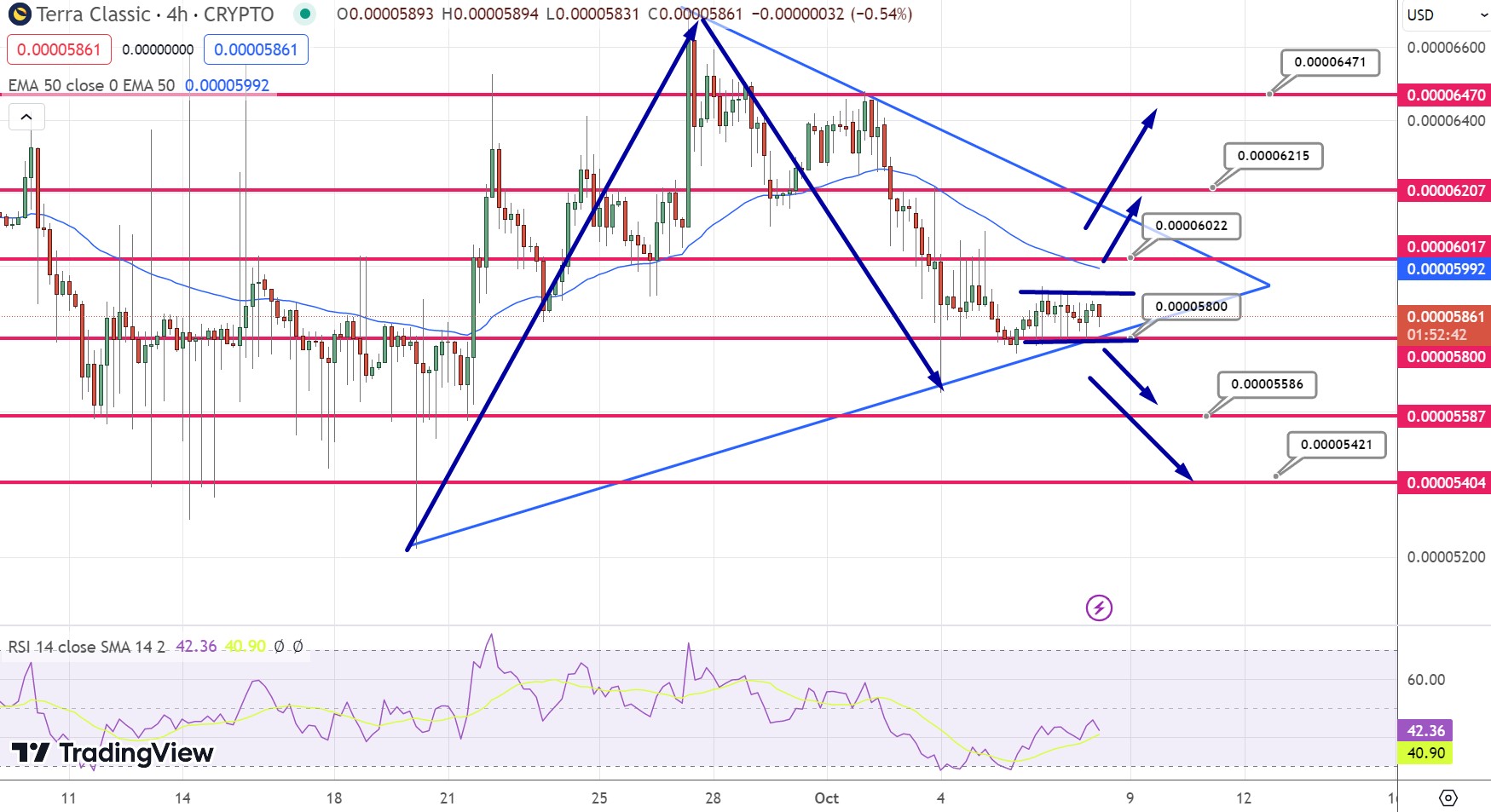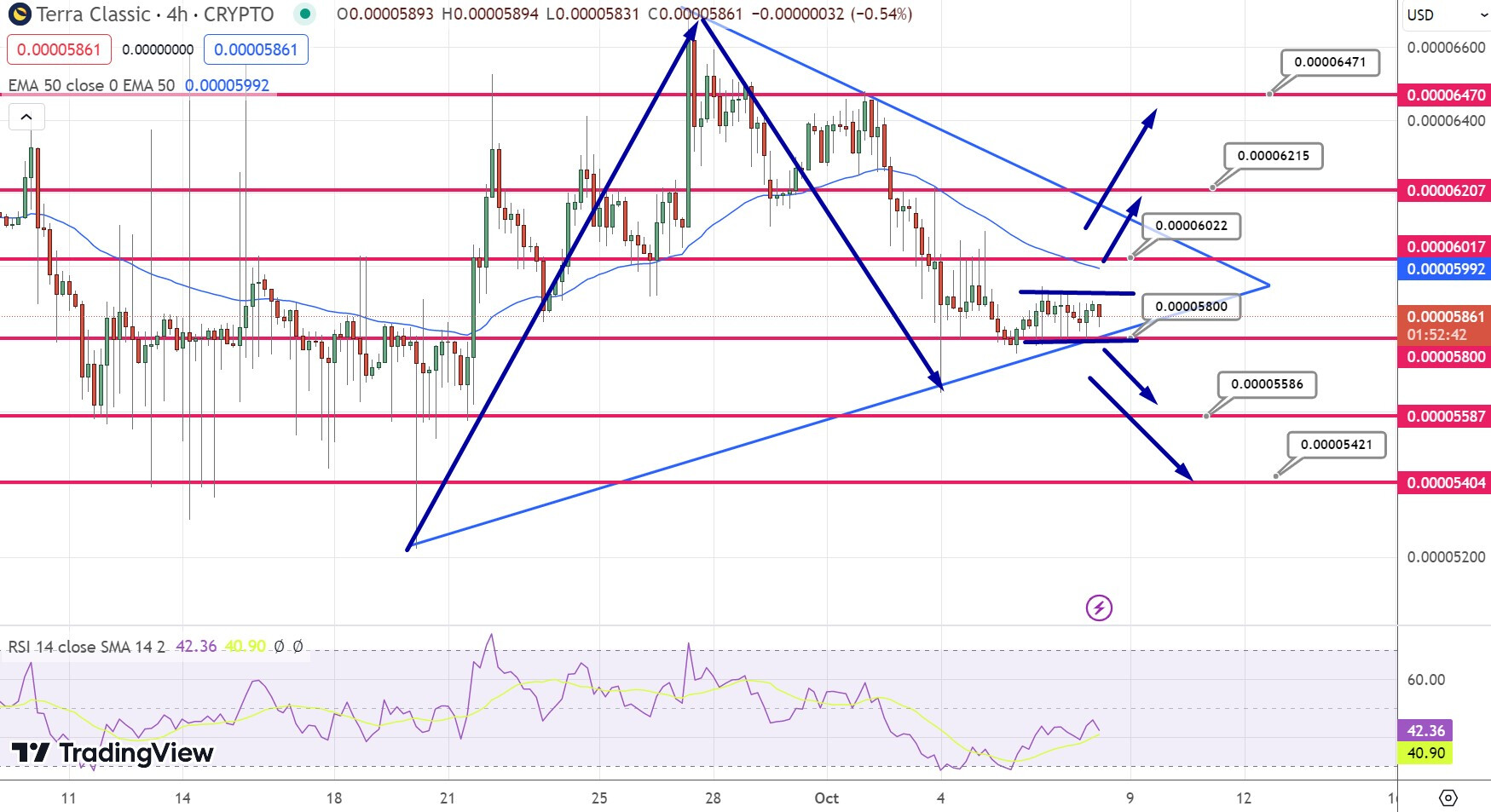 One of the standout patterns observed in LUNC's chart is the symmetrical triangle formation. Such patterns often indicate a period of consolidation before a breakout.
Interestingly, LUNC has also shown signs of a potential bearish break below the triple bottom pattern at $0.00005800.
A confirmed breakout from the symmetrical triangle in the downward direction could lead to selling pressure, pushing the price towards the $0.00005421 mark.
In conclusion, while LUNC is currently navigating a neutral to bearish terrain below $0.00006022, the dynamic world of cryptocurrencies means that anything is possible in the long run.
Keep an eye on resistance and support levels. A breakthrough and maintenance above resistance levels could lead to more bullish momentum. Combine technical insights with market research before investing.
New Altcoin Surges in Popularity: Here's What You Need to Know
Emerging altcoins might offer traders swifter and higher returns compared to LUNC, even though they remain well-placed. Fresh altcoins hold the promise of notably surpassing market expectations, especially if they haven't experienced their initial surge.
This sentiment is especially relevant for tokens in presale, with TG.Casino (TGC) currently launching one of the most captivating new sales.
They are introducing a decentralized casino platform integrated with the widespread Telegram messaging app's social reach.
In the mere fortnight since its presale began, TG.Casino has accumulated nearly $635,000, signaling budding interest from investors. With a comprehensive assortment of games and betting choices, TG.Casino plans to utilize Telegram to engage with established investor and gamer communities.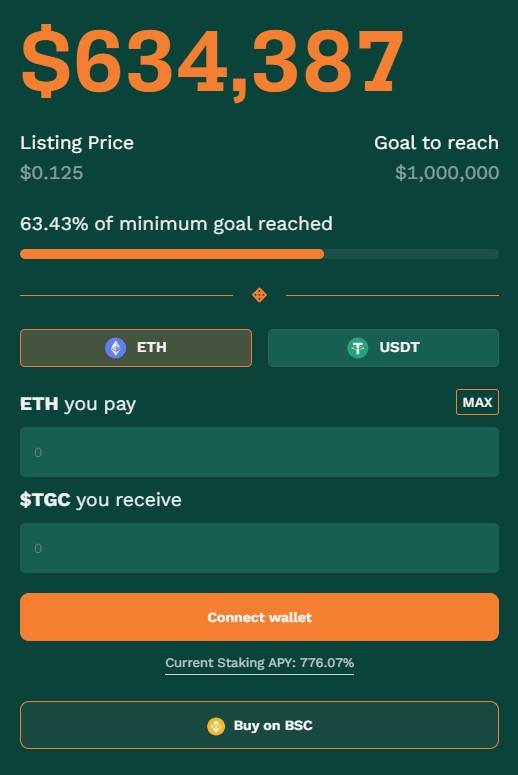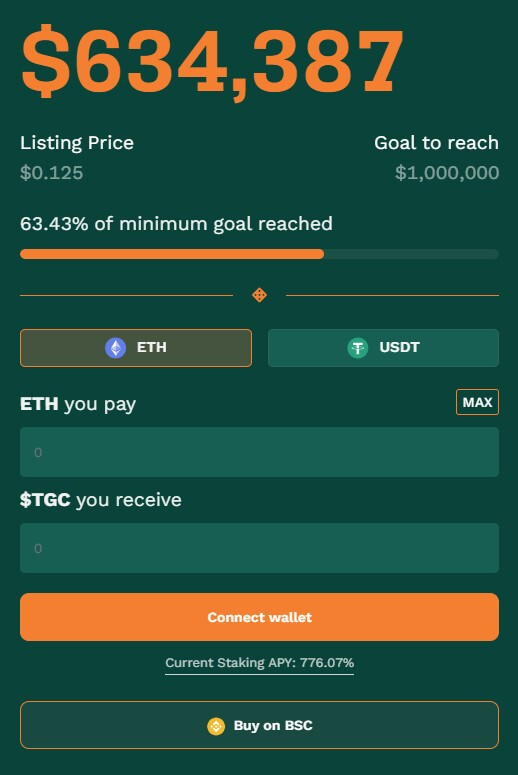 Having debuted just a few weeks prior, TG.Casino's integration with Telegram is anticipated to spur its userbase expansion rapidly.
The TGC token, pivotal for engaging in games on TG.Casino, will not just be symbolic but will carry tangible utility. Its appeal is set to increase due to its staking capabilities.
The token's maximum limit is set at 100 million. Out of this, 40 million is reserved for the presale, 20 million for staking incentives, and 10 million for gaming rewards, ensuring its widespread decentralization.
To participate in TG.Casino's presale, investors can go to the official website and connect their software wallets. The wholesale price of 1 TGC is $0.125.
However, the platform's strong fundamentals could lead to a potential increase in its price once it gets listed on exchanges.