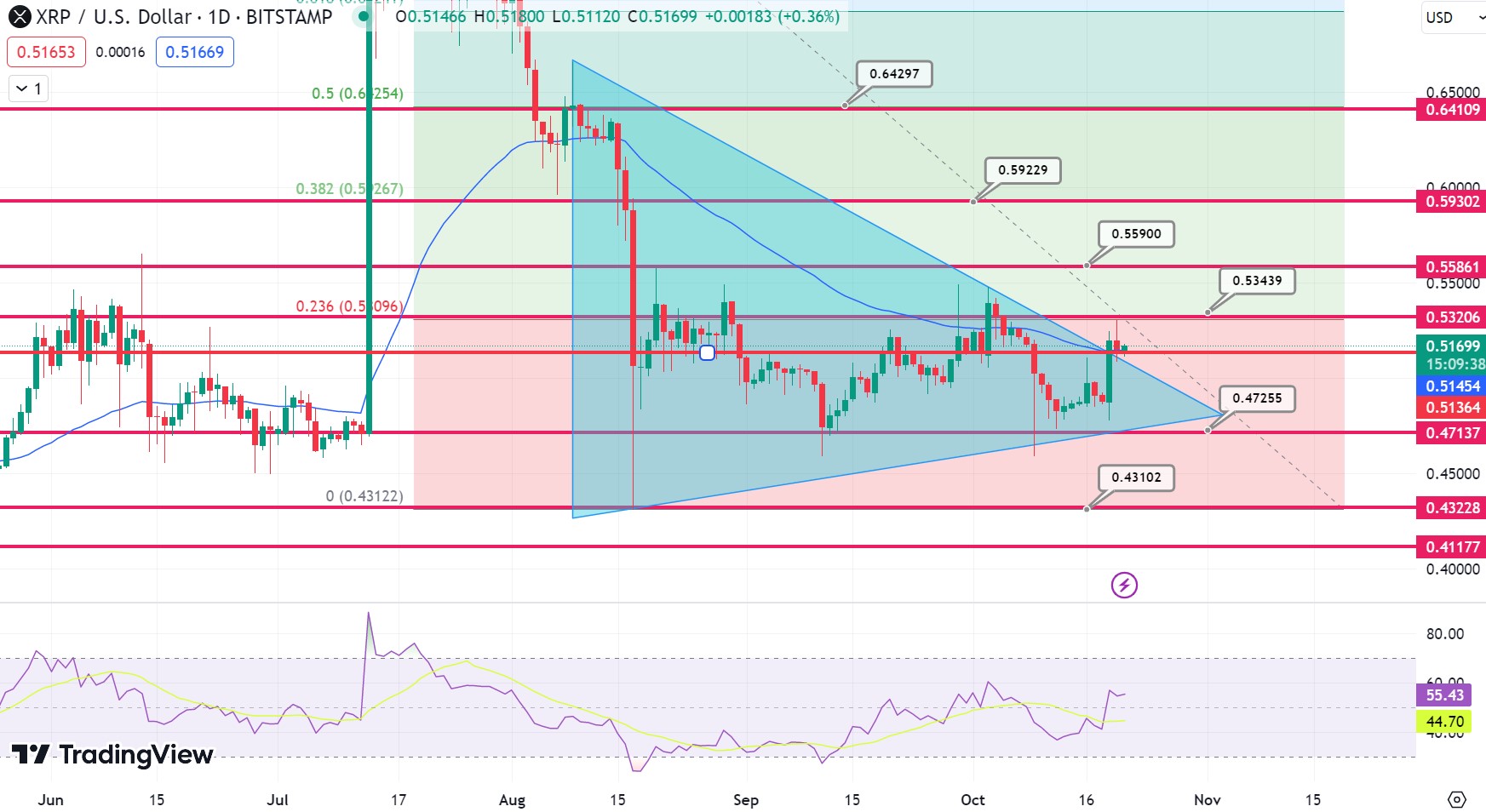 As XRP's price retracts to a notable $0.5158, the crypto community is abuzz with speculation. 
Is this merely a healthy correction paving the way for a subsequent uptrend, or are there other market dynamics at play? 
Delving into XRP's recent performance and underlying factors, we aim to provide a comprehensive price prediction for this prominent cryptocurrency.
Let's dive into the data and technical indicators to uncover the XRP price prediction.
XRP Price
In the current trading scenario, XRP boasts a price tag of $0.517027. The last 24 hours have been eventful for the coin, witnessing a commendable trading volume of approximately $940.7 million, and showcasing a 1.50% rise. 
On the international spectrum, XRP proudly clinches the fifth spot in cryptocurrency rankings, reflecting a live market capitalization of around $27.63 billion.
Furthermore, the circulating supply for the coin is currently at 53.44 billion XRP, with a set ceiling of 100 billion coins.
For those closely watching the crypto market trends, be sure to check out our recent article on Bitcoin price prediction. Get the latest insights on BTC's potential trajectory.
XRP Price Prediction 
In the ever-evolving cryptocurrency trading landscape, Ripple's XRP emerges as a notable player, standing toe-to-toe with traditional financial giants, backed by its unique digital capabilities. 
The pivotal point for XRP currently rests at $0.5080. As we climb the price ladder, the immediate resistance is marked at $0.5590, followed by secondary and tertiary resistances at $0.5923 and $0.6430, respectively.  
On the flip side, the coin finds its immediate support at $0.4726, with subsequent layers of cushioning at $0.4310 and the more profound $0.4118.
Shifting our gaze to technical indicators, the Relative Strength Index (RSI) offers invaluable insights. Currently positioned at 55, this metric sits in a moderate zone. 
For context, an RSI surpassing 70 typically indicates overbought scenarios, while a dip below 30 is a beacon of oversold conditions.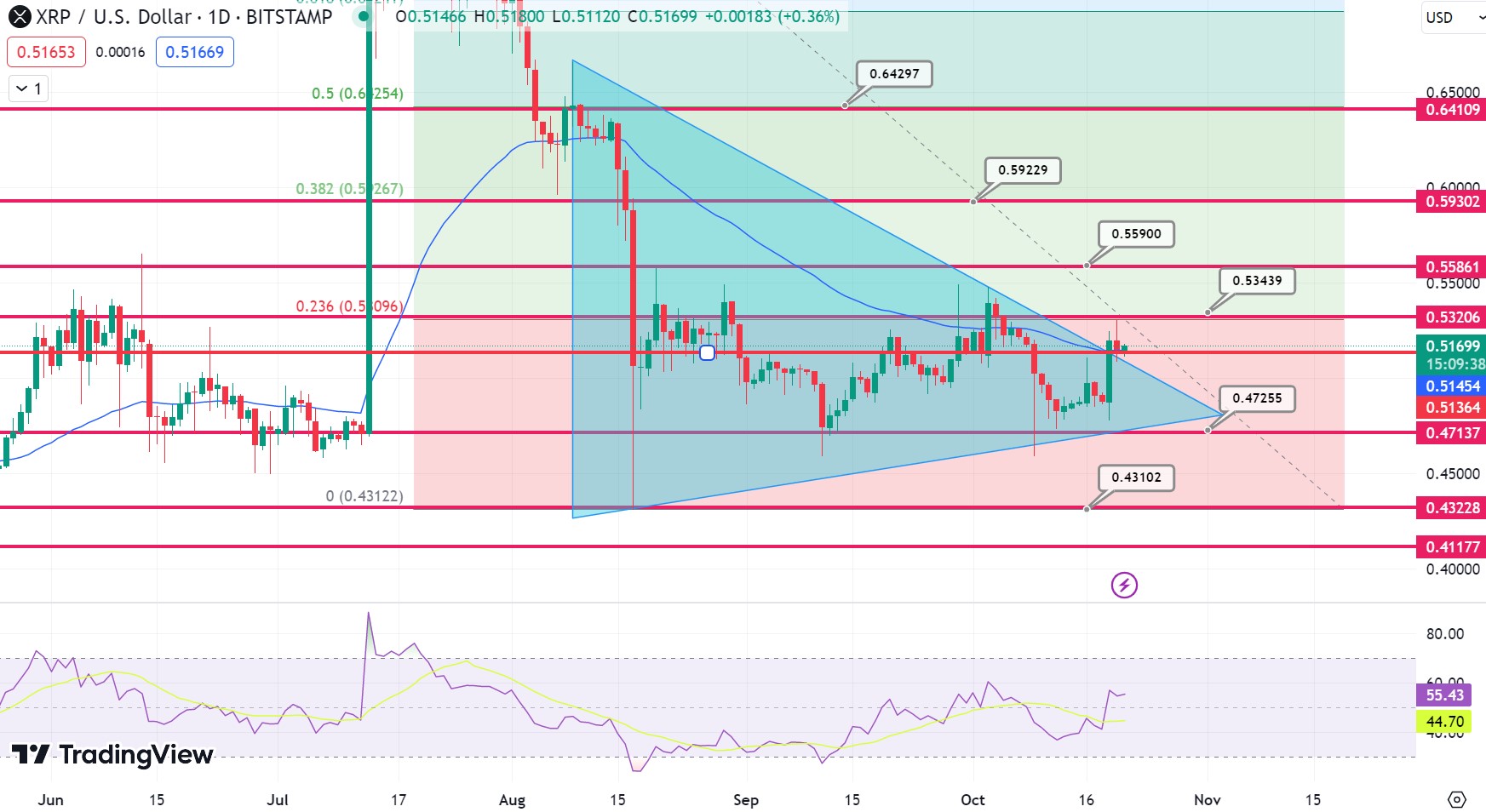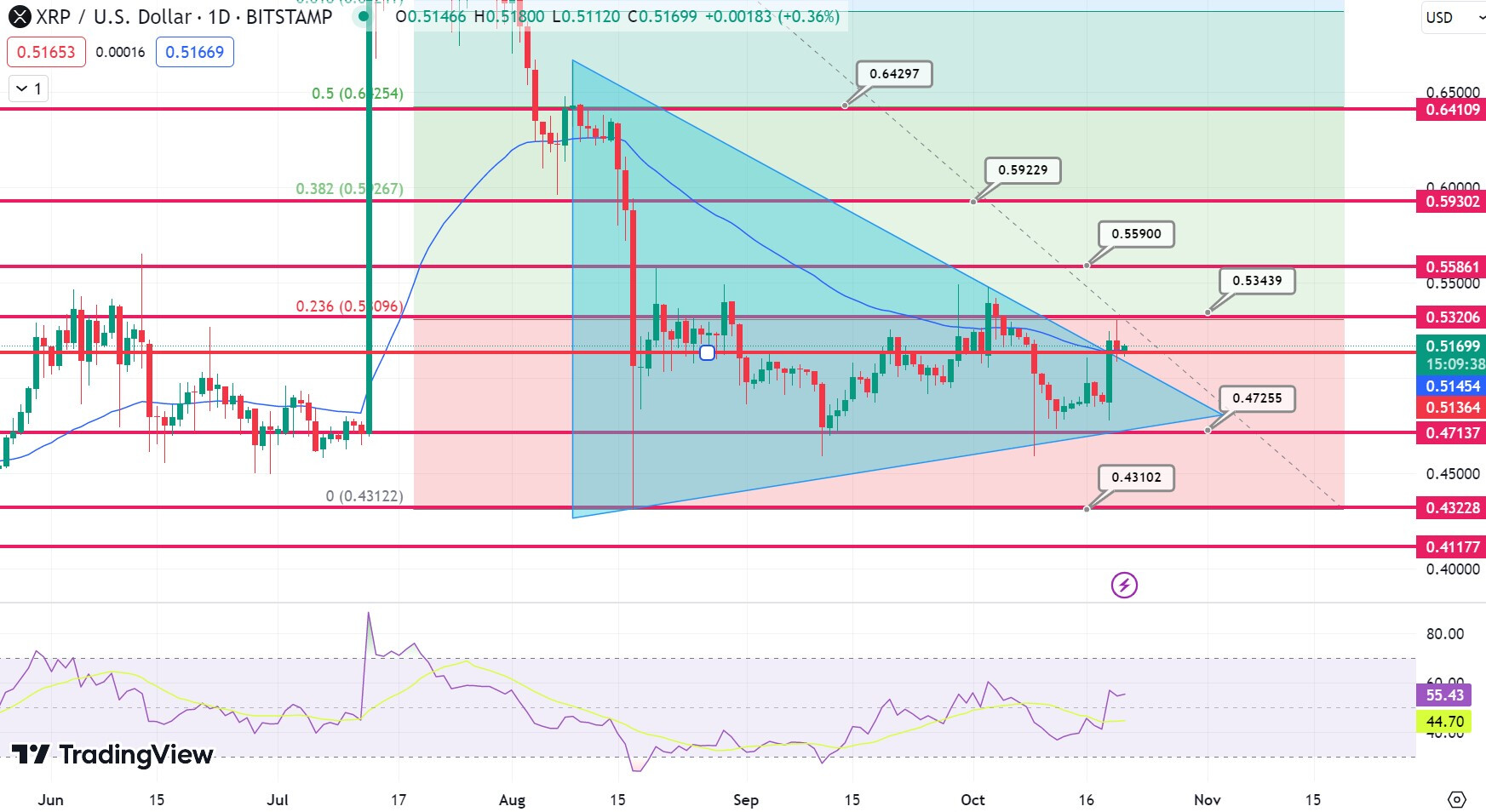 A mild bullish sentiment is palpable, with XRP's RSI marginally crossing the 50 mark. Further technical analysis reveals that the 50-day Exponential Moving Average (EMA) is $0.5135. 
Pattern Identified: A symmetrical triangle is currently evident, signifying investor indecision. This pattern, coupled with the 50 EMA pointing towards a purchasing trend, underscores the resistance at $0.53439 and support at $0.47255.
Implications: Historically, the symmetrical triangle is a precursor to major price shifts. Given the current indicators, we could be on the cusp of a significant breakout, the direction of which will be dictated by overarching market sentiments and dynamics.
Regarding the broader trend, XRP currently exudes bullish vibes, especially when its price exceeds the $0.5135 mark. However, any descent below this benchmark could push it into bearish territory. 
As for the immediate future, there's anticipation of XRP inching towards testing the $0.5590 resistance. The market promises a blend of challenges, surprises, and opportunities as we forge ahead.
Bitcoin Minetrix (BTCMTX): Last Chance Alert
Explore the groundbreaking realm of Bitcoin Minetrix with its unique stake-to-mine model – as the presale impressively surpasses the $1.9 million mark. With the clock rapidly counting down, there are only two days remaining until the anticipated price increase. 
Anticipation Builds: As we approach the conclusion of Stage 2 on Monday, October 23rd, the Bitcoin Minetrix community is buzzing with excitement. Discover why this is a game-changer for savvy investors.
Innovation at the Forefront: With the crypto world awaiting Bitcoin's halving in April 2024, Bitcoin Minetrix is a cloud mining pioneer.
Stake-to-Earn Model: Experience the novel stake-to-earn approach, offering the possibility of doubled returns. This has already attracted investors, with the presale surpassing $1.9m.
Token Value: One $BTCMTX token is currently valued at an enticing $0.0111. However, this could surge as the presale concludes due to rising interest.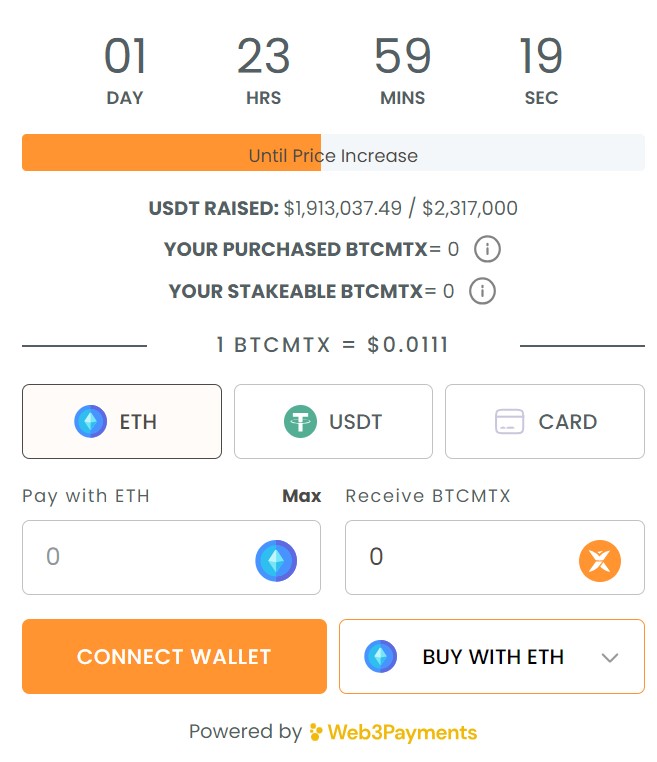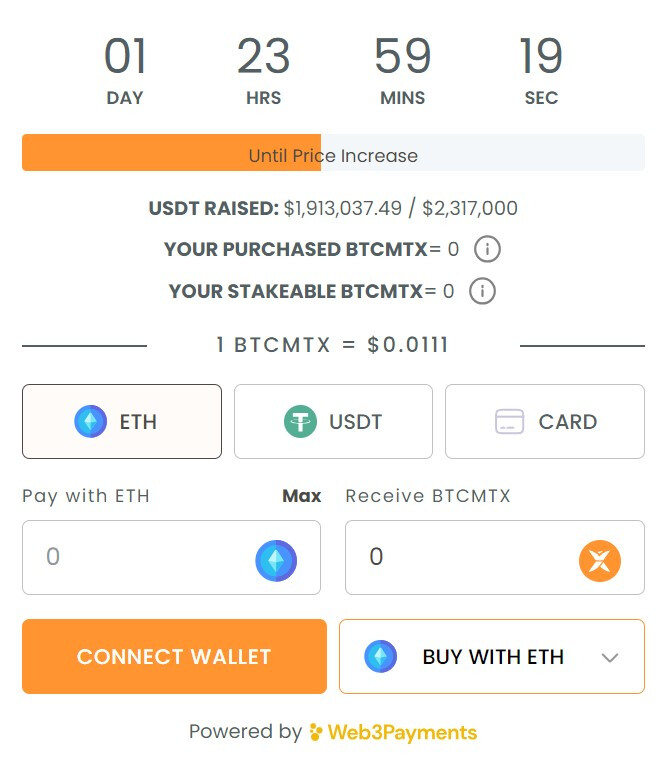 Decentralization & Security: Bitcoin Minetrix is transforming the Bitcoin mining landscape by integrating smart contract decentralization, ensuring heightened security in cloud mining.
Revolutionizing Cloud Mining: Their unique stake-to-mine concept offers retail investors an affordable entry into Bitcoin mining, avoiding common cloud mining pitfalls and scams.
Mission Statement: Bitcoin Minetrix's goal is straightforward – make Bitcoin mining transparent, profitable, and accessible to everyone.
Stay Updated: Join the burgeoning Bitcoin Minetrix community on platforms like X, Discord, and Telegram for the latest updates. Secure your position in this transformative journey by joining the BTCMTX presale today.
Disclaimer: Crypto is a high-risk asset class. This article is provided for informational purposes and does not constitute investment advice. You could lose all of your capital.

Enter your email for our Free Daily Newsletter

A quick 3min read about today's crypto news!