Ripple's XRP sits at a price of $0.483626, marking a minor increase of 0.45% within the past 24 hours but down approximately 7.5% in a week. The trading volume over the day spanned $635.59 million. 
At present, XRP's rank on CoinMarketCap is #5, boasting a market cap of $25.85 billion. The circulating supply for XRP stands at 53.44 billion coins, with a theoretical maximum supply cap of 100 billion coins. 
Let's dive into the data and technical indicators to uncover the XRP price prediction.
XRP Price Prediction 
Analyzing the 4-hour chart, the XRP/USD's pivot point is detected at $0.5540. Immediate resistances lie at $0.5582, $0.5981, and $0.6449, while the support levels are found at $0.4677, $0.4186, and $0.3764. 
From a technical standpoint, the Relative Strength Index (RSI) currently reads 37, indicating a prevailing bearish sentiment. The price of XRP remains below the 50-day Exponential Moving Average (EMA) of $0.5202, reinforcing the bearish stance. 
A symmetrical triangle pattern has emerged, providing support around $0.4735 and encountering resistance at $0.5200. 
Such triangle patterns are typically ambivalent and can break out in either direction, influenced by fundamentals and the equilibrium of demand and supply.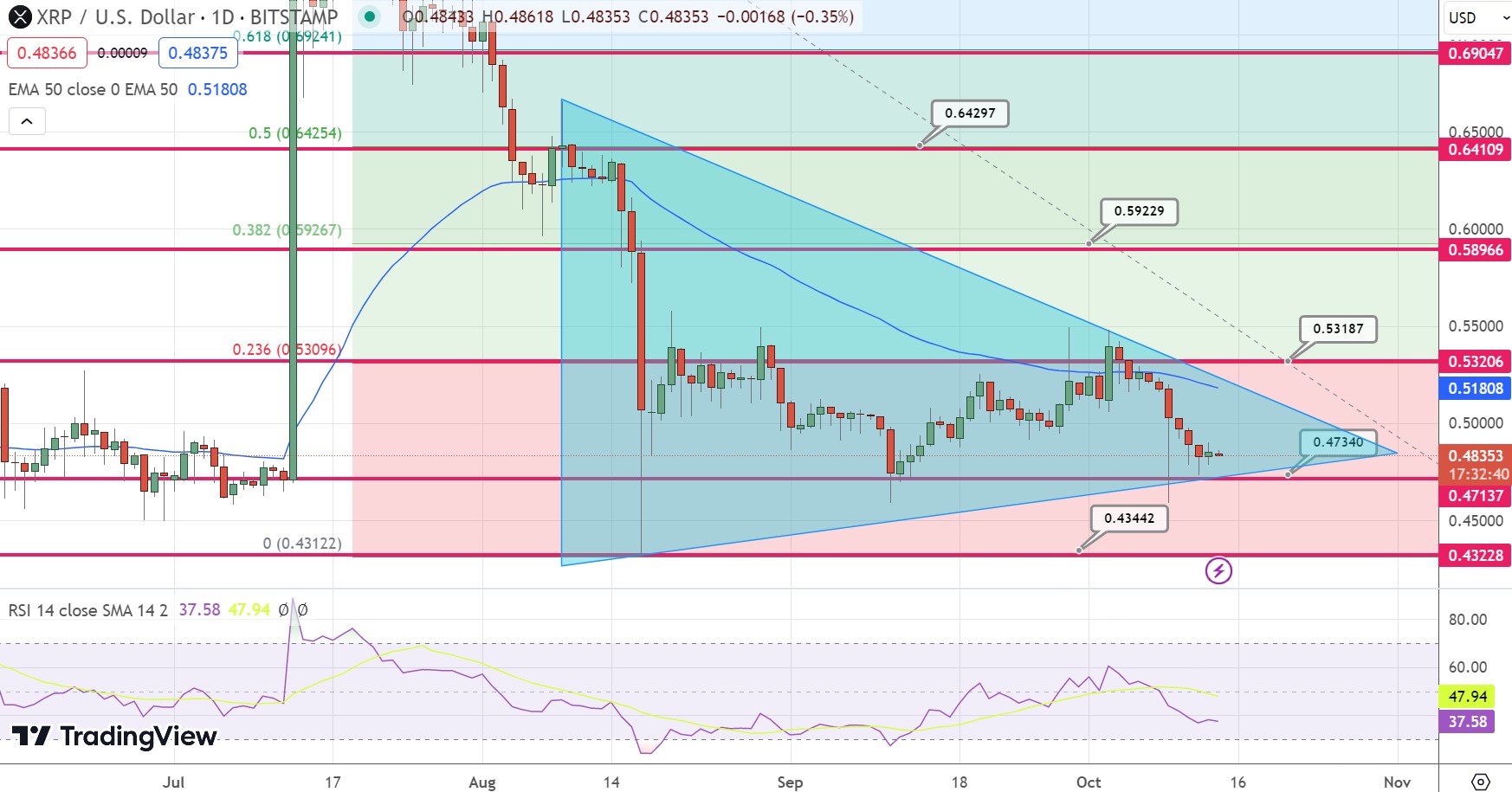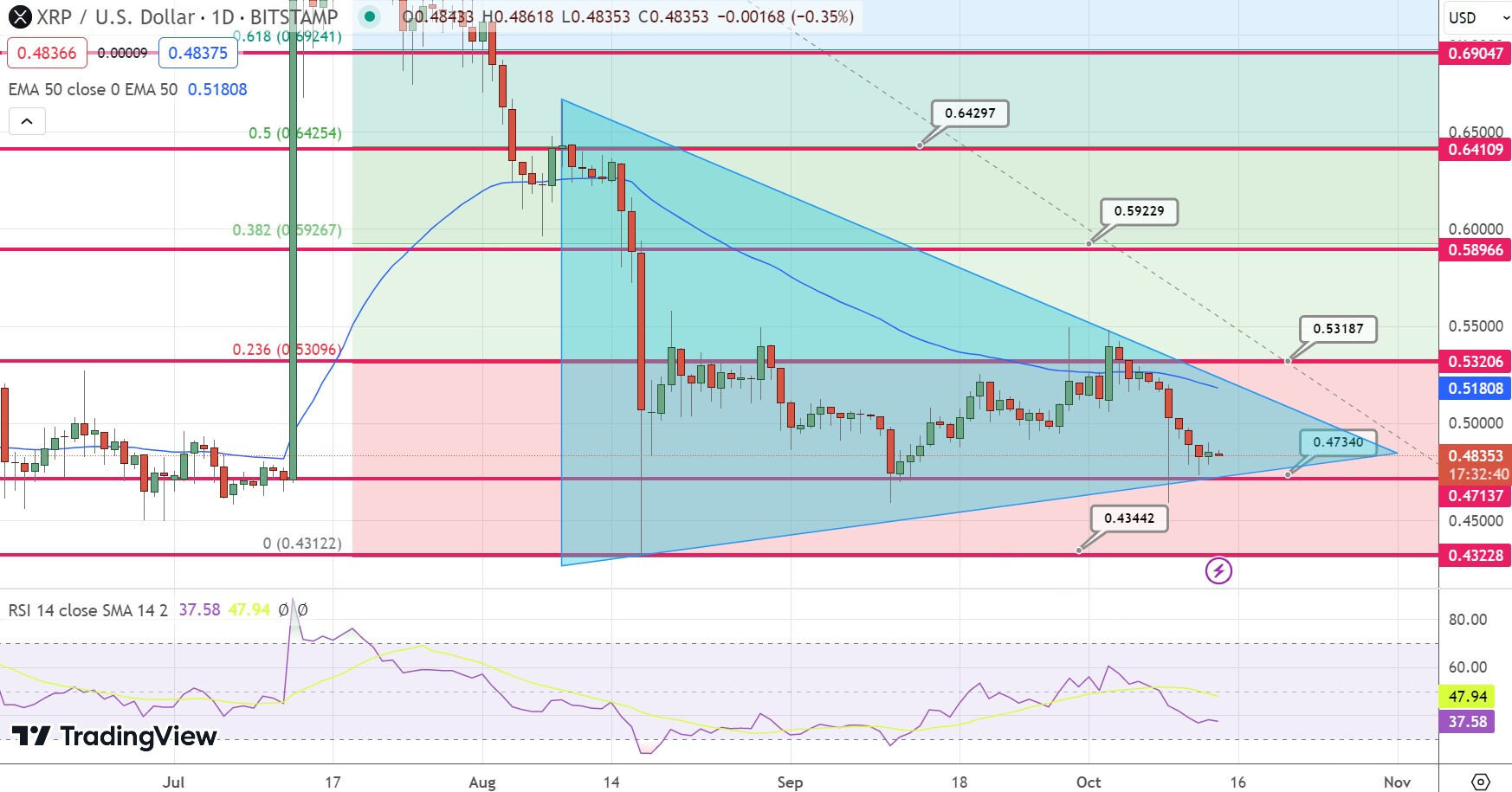 On the fundamental side, Ripple's XRP community is buzzing about a speculated large-scale burn of the XRP tokens. 
This was spurred mainly by a fictitious article on Investing.com, which claimed Ripple is mulling over the burn of its 41.9 billion escrowed tokens to counteract XRP's bearish market performance and potentially elevate its value. 
Despite lacking credibility and sources, the rumour has caused ripples (pun intended) within the community.
In conclusion, the overall trend for XRP appears bearish, especially if the price remains under the $0.5200 mark. 
However, given the current symmetrical triangle pattern's unpredictable nature and the circulating rumours, traders and investors should remain vigilant and keep an eye out for any significant movements in the near future.
For those closely watching the crypto market trends, be sure to check out our recent article on Bitcoin price prediction. Get the latest insights on BTC's potential trajectory.
Bitcoin Minetrix (BTCMTX) Cloud Mining Presale Surpasses Expectations with Over $1.3M Raised!
Explore the groundbreaking realm of Bitcoin Minetrix with its unique stake-to-mine model – as the presale impressively surpasses the $1.3 million mark.
With a tempting 1224% Staking APY on offer, Bitcoin Minetrix introduces a platform where participants can purchase, stake, and observe their rewards grow.
The crypto realm's ultimate passive income experience is now within easy reach.
Thanks to Bitcoin Minetrix's strategy, the era of hefty starting investments and deciphering intricate mining agreements is behind us.
BTCMTX Advantage – Key Points
Market Uniqueness: Bitcoin Minetrix stands out in a saturated cloud mining landscape, introducing the inaugural tokenized Bitcoin cloud mining system, and redefining industry standards.
Secure on Ethereum Blockchain: By operating on the trusted Ethereum blockchain, Bitcoin Minetrix guarantees top security, mitigating risks from external mining pools and deterring deceptive cloud mining services.
Commitment to Decentralization: Embracing the true essence of decentralization, Bitcoin Minetrix shifts mining profits from large entities to individual investors via its innovative Stake-to-Mine approach.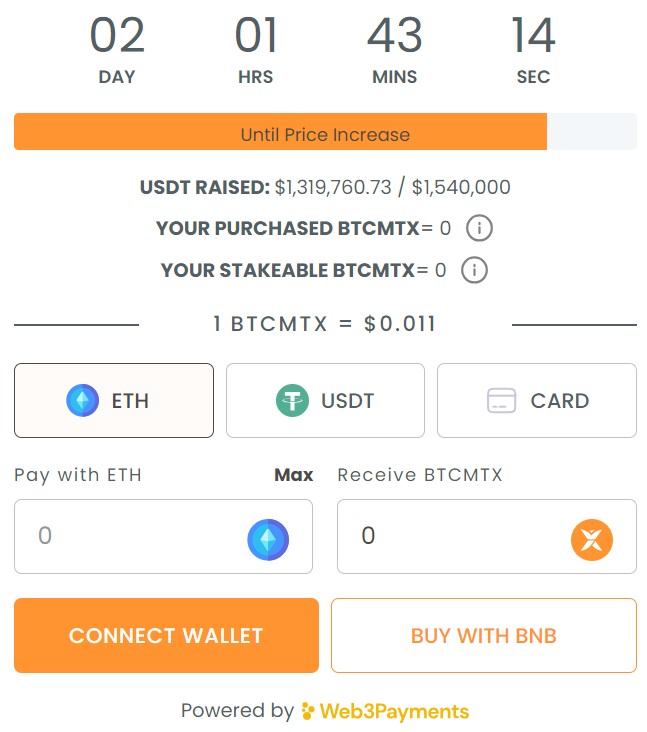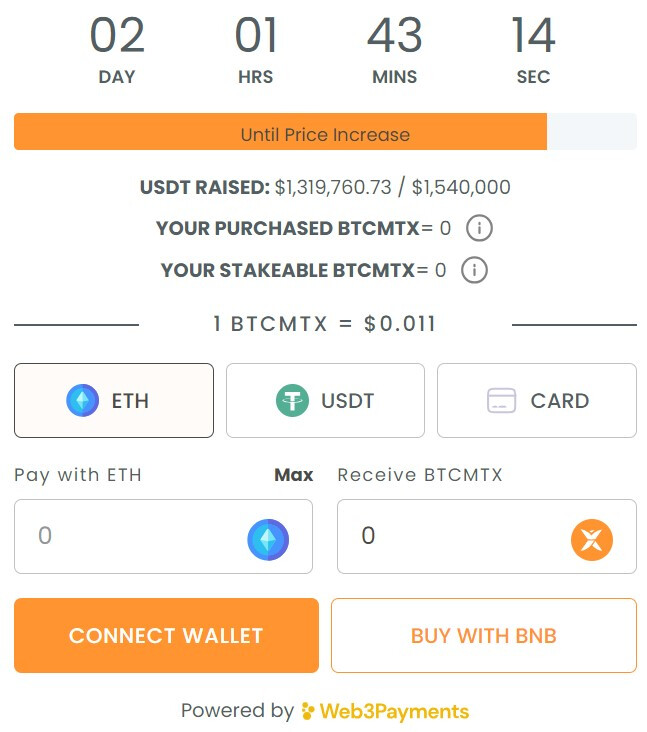 Capitalizing on Bitcoin Halving: Positioned to leverage the forthcoming Bitcoin halving, Bitcoin Minetrix offers a platform for investors to potentially benefit from Bitcoin's historical price spikes post-halving, without the capital risks.
BTCMTX Presale Momentum: The BTCMTX presale is gaining traction, raising over $1.3of its $1.54M target, pricing each token at a competitive $0.011, presenting early backers with a front-row seat to this mining revolution.
Secure your position in this transformative journey by joining the BTCMTX presale today.
Disclaimer: Crypto is a high-risk asset class. This article is provided for informational purposes and does not constitute investment advice. You could lose all of your capital.

Enter your email for our Free Daily Newsletter

A quick 3min read about today's crypto news!